Bringing rainforest science into our daily lives using the digital revolution​
The aim of the project is to contribute towards this vision the Carbon-Water Dynamics group of the Lyell Centre will undertake a ground-breaking investigation to assess potential carbon loses from rainforests during river transport. Importantly, this carbon has been missed in current global carbon estimates and is therefore, known as invisible dissolved organic matter. Our team will carry-out a six-week field campaign from April to mid-June 2019, sampling three rivers systematically over a series of rainfall events during the peak wet season. The key objective is to improve carbon estimates of Amazonian rainforests and improve our process understanding of the mechanisms involved in mobilising iDOM. This will involve the collection, of soil and water samples field analysis and returning samples to the laboratories at the Lyell Centre.​
Importantly, we aim to continue the significant moment created by the new science strategy delivery ground-breaking science whilst build further interest across multiple audiences including the government, non-governmental organisations, potential funders and donors, and the public.​
To aid this engagement strategy we propose to incorporate digital revolution technologies to capture the essence of our research and logistical activities to a variety of audiences including Iwokrama International Centre, potential funders and governmental organisations, local Amerindian communities, academics, and local Scottish communities. Our approach is to capture digital moving and still images to create story-boarded sequences to explain our work during various stages (described in detail below). With further support of the HWU GRID we propose to extend the user experience by creating virtual reality experiences that can be utilised for public and stakeholder engagement, and learning and teaching at HWU.​
Our proposed story-board scenes:​
Audience A: Presenting our work to the local communities in Guyana​
Short film about Day-to-Day laboratory work at HWU and the Lyell Centre:​
We propose to use GoPro cameras to film our team during the analysis of soil and water samples on newly installed and world-leading geoscience laboratories in the Lyell Centre. The aim is to show the local communities, students and officials in Guyana the work we do "back at home", why it is so valuable that we all work together to promote rainforest sustainability and showcase the world-leading facilities at HWU.​
Audience B: The importance of the carbon-water rainforest research​
There are multiple key elements to a successful research expedition to the rainforest. These include the mobilisation planning and logistics, the travel, setting up a mobile laboratory, site surveys, engaging key project partners, working with local communities and finally the sampling and fieldwork itself. We aim to capture all of these scenarios through still and moving imagery. Importantly, we will use 360-degree cameras to capture and display a 3D immersive experience bring the jungle to HWU and Scotland.​
To further the experience, we propose to create a 3D virtual model to create an interactive rainforest experience of HWU scientists at work (Dave please add more as necessary). We propose two main settings for the 3D model; 1) by the river directly in the rainforest, collecting various samples and interacting with the environment and 2) in the mobile laboratory at the Iwokrama field station.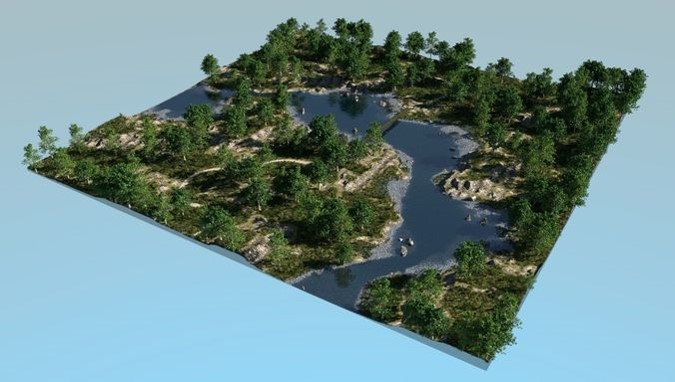 The project was led by Dr Ryan Pereira and Dr David Cole.
​