The Region of Yogyakarta, located in Central Java, Indonesia, is an active seismic zone and close by to one of the most active volcanoes in the world, Mount Merapi. The local communities live under the constant looming threat of eruptions, earthquakes and landslides. Following a devastating eruption in 2010, in which 277 people died, much work and training has been done to help plan evacuations and improve local facilities. However, training and maintenance is expensive and difficult to organise or a regular basis meaning many locals can be unprepared for the case of an evacuation.
This project aims at developing a gamified form of training that will present locals with strategies for achieving the community resilience that will help them become more resilient to disaster. Drawing from how Indonesian villages close to Merapi achieve resilience, the project presents many methods that can help both individuals and communities plan for a smooth evacuation. A gamified solution allows for players to test their decision making in a virtual environment and prepare ideas for handling the many threats that come alongside an eruption event.
The major contributions to maintaining a preparedness for evacuation identified by Indonesian partners are; Economic Wellbeing, Local Health and Social Resilience. These are influenced largely by communal policy, trust with government evacuation instructions and willingness of the community to volunteer. Hence the project aims to encourage individuals to engage with these systems, such as joining local forums or volunteer to help with evacuations or needed maintenance.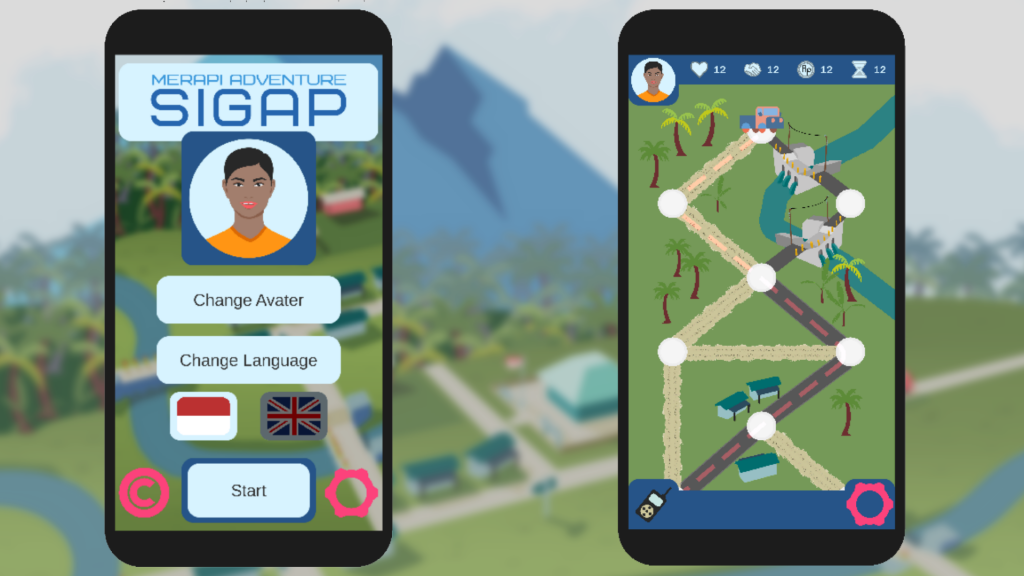 The above challenges have a behavioural aspect at their core. They require finding ways to build trust and collaboration withing local community as well as educating the community about the evacuation procedures in the event of eruption. Games can be a more effective alternative to traditional training programmes, because they are more engaging and can cater to people with low level of literacy. They can also help to push participants towards cooperation by rewarding responsible decision making while not rewarding reckless or selfish decisions. ​Empowering decision-making skill in a low risk environut can help empower vulnerable groups to practice these skills for the case where they may need to evacuate independently during a future volcanic eruption. 
The developed game is available on Google Play here.
The project is led by Dr Agnessa Spanellis in collaboration with Universitas Gadjah Mada in Indonesia. The project is GCRF-funded.​